We are pleased to share this new resource, "Hamilton's Community Response to Hate", as announced at our 3rd Anniversary. It includes critical frameworks and practices that are necessary for addressing all levels of hate, racism, and discrimination including: decolonization; Anti-Racism and Anti-Oppression; calling in versus calling out; bridge building; and, steps for moving from allyship to meaningful solidarities as "co-conspirators."
You can read/upload the full document on the link below this image:
Our latest events: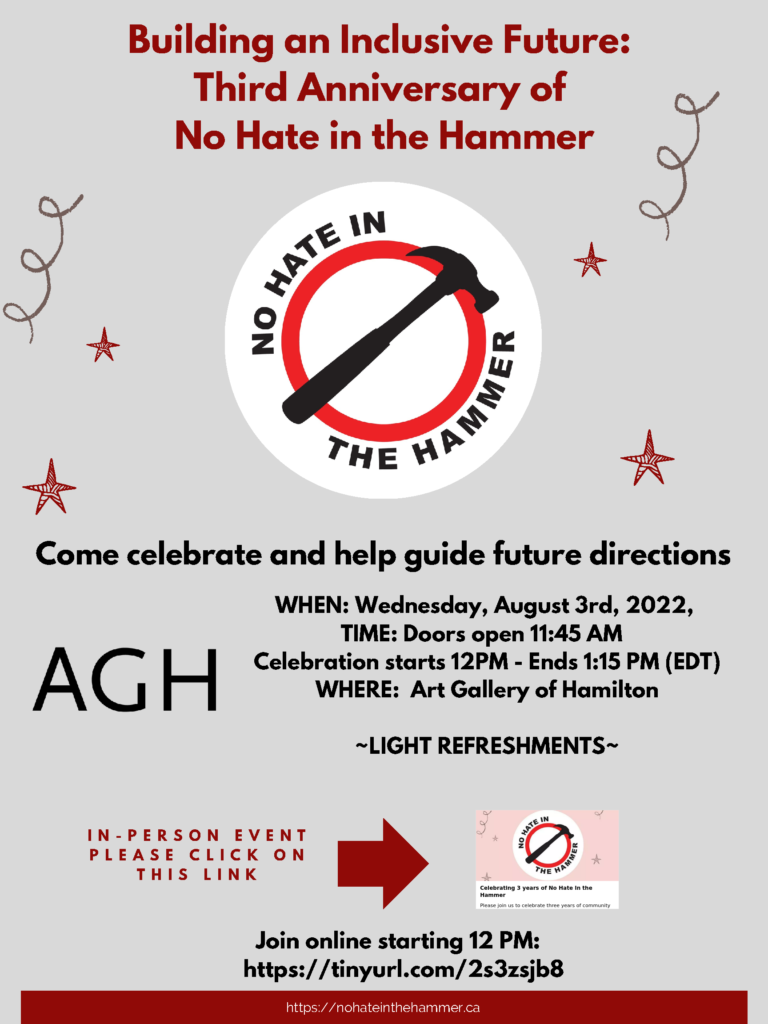 Please join us on August 3rd to celebrate three years of community collaboration to address hate. Let's keep working together to build an inclusive future! Share your ideas on how to ensure that everyone feels safe and a strong sense of belonging in Hamilton. Bring your positive energy–and a small appetite. Can't wait to see you!
If you would like to join us over zoom, you can use this webinar link
To register and attend in person (spaces are limited) got to the Eventbrite link:
Creating a Community Response to Hate: A Virtual Speaker Series
The shocking manifestations of hate in Hamilton and a growing call for action to dismantle it has generated grassroots counter-demonstrations, siloed mobilization and more recently, institutional initiatives, but there has been no effort to collaborate on a shared path forward.
No Hate in the Hammer is excited to announce our virtual speaker series that will create a shared path forward against hate. We will be holding various speaker sessions from October 2021 to April 2022 to highlight key community initiatives, share knowledge and encourage action. The end goal of this speaker series is to co-create a blueprint for action – a coordinated community response to hate that will coincide with the creation of a toolkit.
Check out our video library to stay up to date with all of our speaker sessions!